Originally posted on Moday 21st August:

So this is the post I should have started off with.....oh well, I got to it eventually.

How does an obese, never-exercised-in-her-life, 40-something mother of 3 become a trim, fit and (usually) full-of-beans personal trainer? Um. *thinks hard* Sometimes it's a bit hard to actually remember how I got here. This was me on my 40th birthday: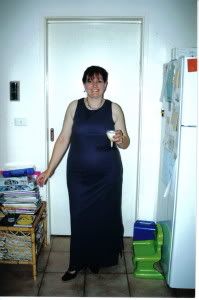 Ugh. 80-something kg, and I'm only 160cm tall. I got my photos developed from my party and I almost cried when I saw them, especially this one. You'd think that would be motivation enough to get me off my fat arse and doing something about losing the flab, but nope! It took me another 2 1/2 years, and countless failed diet attempts before I finally had the "aha!" moment that really changed my lifestyle and my life.

It was in mid-2003 that my mother learned that she needed a total hip replacement, due to osteo-arthritis. After the initial concerns for Mum, I started to have these little thoughts niggling in the back of my mind. No exercise, not-so-good diet, too much food, overweight......all this had led Mum to where she was now.....and I was headed in the same direction. Eek! In 20 years' time, that could be me!

It turned out that this was exactly the motivation I needed. I drew up a meal plan and stuck it on the fridge, but I knew that I couldn't do this with diet alone. So I began walking 5 days a week - only about 30 minutes at first, but at least it was something. While I walked, I had time to think about things, and I realised that while walking was great for my lower half, it wasn't going to do a thing for my upper body in terms of strength and increased bone density. That was when I made the scary decision to join a gym. A very reluctant decision - I knew that I'd hate it, but it was for my own good....

Little did I know where that was going to lead me.

To be continued....