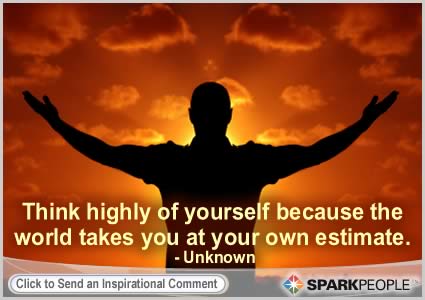 I've had a couple of conversations this week about how important a positive attitude and some visualisation is when it comes to fat loss/body transformation goals. And then this article was delivered to my email inbox. Synchronicity.

This summed up what I've been trying to tell people:

When you're driven by negative thoughts about yourself, you just don't have the raw materials that are necessary to achieve the results you want.

I speak to so many people who really, really hate themselves. They use their before photos as motivation in the worst possible, most negative way. Their self-talk is awful, horrible. They 'punish' themselves for eating "bad" foods by doing hours of exercise (and usually hating every minute of it). I know someone who used to drive herself on at the gym with words like "come on, fat girl, get that blubber moving".

All this makes me really sad, because it's so difficult to help these people. Many of them have deep-rooted problems, but are firmly in denial about them. They think that when they achieve their weight loss goal, they'll be happy, but the ones who get there are surprised to find that they still feel bad about themselves, still have the same problems as when they were overweight. And they still deal with those problems the only way they've ever known - with food. So in most cases, they regain the weight and find themselves stuck in a yo-yo pattern of weight loss/weight gain, never really achieving what they think they want.

What's the answer? I don't have it (except maybe to recommend a good therapist). All I can do is to point people in the direction of some books or articles or programs that include goal-setting and visualisation, and preferably journalling. And some exercises to promote positive thinking.

Tom Venuto writes some good stuff on the subject, if anyone's looking for somewhere to start.