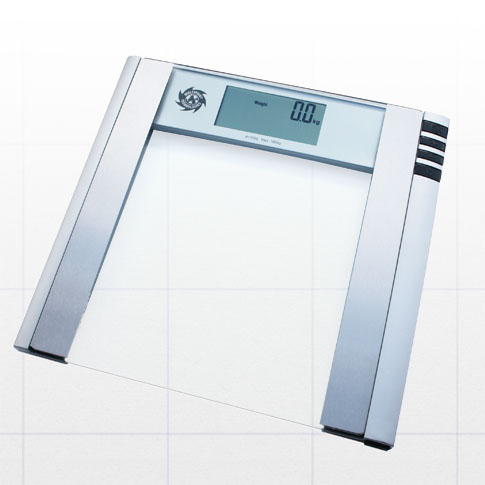 I picked up my flash new scales yesterday. I haven't been able to get the old ones to tell me anything useful all week, just Lo...Lo...Lo... Ah, if only that was an analysis of my weight! So I was interested to see what this morning's weigh-in would tell me.

I woke up and thought to myself I feel heavier today. No, I'm not mental, but I can just tell when I'm holding extra fluid. Earlier in the week, I noticed how thin my fingers were - but this morning, they were definitely less boney. Given that I've been complaining since Wednesday about sore boobs (AND sore pecs; nice combination - Not!), I can be fairly sure that my usual hormonal fluid gain is happening.

So I stepped onto the fancy new scales and got: 58.8. Hmm. Just where I was last weekend. *shrugs* Oh-kay, there's a starting point. I expect to see that number decrease over the next week.

These scales are the kind that not only give you body fat readings, but muscle and water as well. I've blogged quite a few times about the accuracy (or lack of) of these gadgets, so I won't re-hash old ground now. But I was mildly amused to see my alleged BF reading: 32%. *rolls eyes*

Once upon a time, the lack of weight loss and the high BF number would have put me in a bad mood. Now, I laugh and flex my biceps in the bathroom mirror. Works for me.