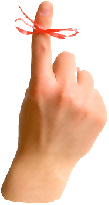 I'm at a client's house this morning and open my bag to look for my watch so I can time an exercise. I don't wear it in cool weather, because it's kind of clunky and gets uncomfortable under the tight cuffs on my hoodie. I rummage through a zip pocket: no watch. I check all the others. Nope. Feel in my jacket pockets. Nuh-uh.

I check and re-check - this is my Polar HRM watch I'm looking for, so I can't really afford to lose it. Argh! Can't find it. I remember checking the time on it in the car when I pulled up, so I decide it must be on the front passenger seat. I'll worry about it when I leave.

Five minutes later, I push up my sleeves and ...um ....I'm wearing it.

My client thinks I'm a moron.