Today I tested a few more foods, including....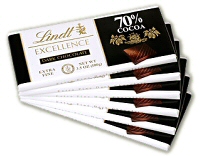 My preference is always for the 85%, but Priceline had the 35g bars on special, and this was the darkest they had.

So far, so good. I'll be testing dairy in a couple of days, grains will be waiting a bit longer. Those, I have my doubts about but I'm open-minded - I could be totally on the wrong track.

*yawn* I'm getting bored with this blog theme. What I ate today is always way too dull day in, day out. Lazy, lazy blogging. And Tales from my intestines isn't exactly the sort of thing you want to read over your morning cereal and coffee. I'll have to make an effort to come up with something more interesting.

Maybe a report on Cinders' glamming-up efforts might be forthcoming over the weekend. I need to go visit my fairy godmother this morning first though.