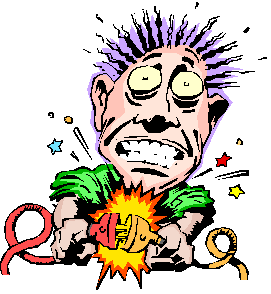 Yesterday my physio decided not to stick needles in me. Instead, he electrocuted me. Yikes!

My upper trapezius on my left side has gone and tied itself in knots over the past few weeks, and we really can't figure out why. I've had pain in the side of my neck and across the top of my traps, which appeared likely to be coming from the facet joints in my neck. The muscles were so tight that manipulation or massage wasn't an option. Well, it was an option, but only if Peter the physio wanted a punch in the face...

Instead he's been doing dry needling and I've been icing and stretching like mad, hoping to get some improvement so then he can get in with his magic fingers and do some real work. Only, things have got worse over the past week, and I don't know why.

So today he dragged out the TENS machine and boy, was that an odd experience! The muscle fibres were twitching away in a very spazzy way. It wasn't at all painful, but it did become very irritating after a while. Oh, and I didn't escape the needles altogether - I still copped a couple in my right elbow.

I can't believe I pay for this.