Pattaya was interesting; not somewhere we'd visit again, because of the extreme sleaze factor, but still fun for a few days. It's as if
Soi Patpong
in Bangkok exploded and took over an entire city. (Think of the nasty side of either King's Cross or St Kilda, and multiply the unsavouriness by about a million.... and you'd not even be close).
It's also heavily polluted, thanks to the crazy traffic - walking along the street in the afternoon or evening isn't all that pleasant, thanks to the choking CO2 fumes. But the beach promenade in the mornings was a lovely, cool place to walk, our hotel was great, and eating fresh seafood at an outdoor restaurant overlooking the bay is hard to beat. And there were no crocodiles, rats or snakes swimming through flooded streets. That's always a plus.
Chiang Mai is a whole different world, and we're loving it. It's much cooler up here in the north - although the temperature still reaches around 30C, that's considerably lower than in the south, and there's a cool mountain breeze. The mornings are a pleasant 18-20C, perfect for breakfast by the pool:
We visited the Sunday night Walking Street - every Thai city or town seems to have one of these. A street (or several streets) is barricaded to traffic and turned into a temporary pedestrian mall with hundreds of stalls selling food, handicrafts and knock-off designer goods. Here in Chiang Mai, the hill tribes people sell their wares - beautifully crafted silver jewellery, fine silk clothing and household linen, teak wood carvings, intricate toys and decorations made from buffalo horn, jade and other local materials.
Traditionally embroidered purses and bags
Steamed pork buns: good.
Fried crickets: only 20 baht.... we passed.
Beautifully costumed Hill Tribe girl
Yesterday we took ourselves on a walking tour of the Old City's temples. We walked our legs off, ate more street food, and had a lovely two-hour break in the middle of the day at the
Chiang Mai Women's Prison
, where inmates who only have six months of their term left to serve are trained in the art of traditional Thai massage.
The best place in town for a dirt-cheap, fantastic two hour massage. Who'd have thought?
Temple walking tour - beautiful sights, but we were pretty much all templed-out by the end.
The Thapae Gate, leaving the Old City
Last night we visited the night market and found all sorts of treasures - clothing, silver and jade, trinkets made from buffalo horn, silk cushion covers and more. Plus more food: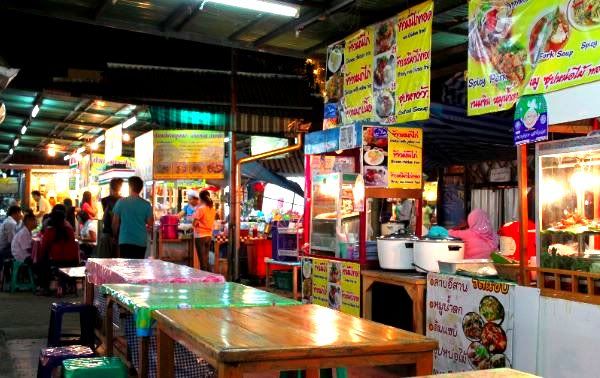 Mystery soup
Today we've been chilling. A swim, followed by a short walk to the local market for some lunch - noodle soup, omelette stuffed with pork and veggies, curry puffs, barbecued pork. Because it's not a tourist market, nobody speaks much (or any) English, but pointing and holding up one or two fingers always gets the message across. Bike Boy also used his Thai menu/recipe skills to ask whether things contained "moo" (pork) "goong" (prawn) or "gai" (chicken).
Excellent Tom Yum Goong
Markets are great places for cheap eats - and you get authentic Thai cuisine, not the stuff they serve up for tourists in some of the more expensive hotels and restaurants.
Oodles of noodles
Pretty agar-agar jellies
Of course, the markets are also full of fresh food:
In fact, some of the food is so fresh, it's still alive:
Probably not too happy, but definitely fresh
I guess netting live frogs is necessary if you don't want your dinner escaping
The narrow sois around the hotel have no footpaths, so you share with cars, motorbikes and bicycles.
Our plan for the rest of the day is to spend a bit of time here....
....and then go out to a riverside restaurant for dinner tonight.
Tomorrow we plan to be a bit more active, but after walking what seemed like 100 km yesterday in the heat, we needed an easy day today.
Oh, and thank goodness for the hotel's free wifi... we've been able to stay in touch with the kids via Facebook, Twitter and live chat. We're reasonably confident that they haven't trashed the house. So far.