Alrighty, I need a little help here please....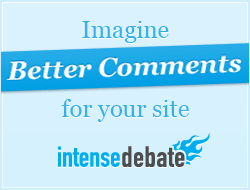 I've just installed a new comments system by
IntenseDebate
, which appears to be the bee's knees. It allows threaded commenting, which is way better for me to be able to respond directly to individual comments. And hopefully it will promote more interactive discussions too.
I've done a bit of testing, but I'd like to check that it works OK for
everybody
. So, please leave me a comment on this post, just so I can make sure all log-in options are working.
You can post as a Wordpress, Twitter or OpenID user. I'm going to enable Facebook logins too, but there's a missing step in the instructions and I haven't had time to search for the solution.... You can also use your IntenseDebate ID if you have one, or just post as a guest.
It seems to be a little slow to load (I assume because it's coming from an external site instead of being part of the Blogger template), but I can live with that - hope it doesn't put people off commenting. You can be patient for a few seconds, right? The only real downside is that I don't think a Google/Blogger ID will work any more, unless you have it linked via an IntenseDebate account. Sorry about that....
I've turned off comment moderation, so we'll see how that works out. This baby has
Akismet
all synched up, so hopefully spam shouldn't even be an issue.
Ready....Set....GO!
EDIT
: Thanks to those who've left test comments - or tried to. I can see there's a problem with the comment link not appearing via the home page. It
should
be there according to my settings... I suspect it has to do with my custom CSS template and will require some coding. Blah. Meanwhile, if you arrived here via the home page, just click on the post title and wait a few seconds, the comment box should appear below the post.
I'll find a solution, or die in the attempt.
EDIT #2
: I may have found a fix for the "missing link" problem. It means uninstalling and reinstalling the thingy, so commenting might not be available for a short time while I faff around with it. Let's hope I don't break anything....